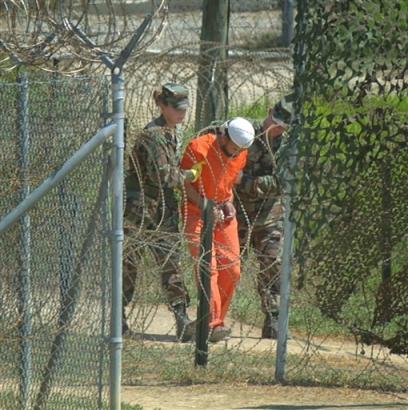 The Senate has reversed position on bringing Guantanamo detainees into the U.S., shooting down an amendment that would have blocked funds from being used for that purpose.  The Washington Post points out, however, that this is more symbolic than practical.  Marc Ambinder points out that the real story is that 75 detainees will neither be charged nor transferred nor released.  Jonathan Hafetz, perhaps the best-known lawyer for Guantanamo detainees, says that detention policy remains "essentially lawless."  Steve Aftergood, meanwhile, has posted up records from two House Judiciary Subcommittee hearings on military commissions.
Worried that Khalid Sheikh Mohammed and other accused terrorists might be acquitted by a civilian jury?  Rest assured, Attorney General Eric Holder has "thought about that possibility" and reminds you that, if they are acquitted, they will be put back into military detention.  Adam Serwer provides more details; Eric Posner says that this amounts to a "two-tier" system of justice.  John Yoo launches another critique, claiming that the trial will provide an "intelligence bonanza" to al-Qaeda.  Jack Goldsmith and Jim Comey argue that trial is the right decision, given the problems that commissions and tribunals have faced over the last eight years.  David Feige worries that precedents created by the case will impair future detainees from arguing their rights.  And Pat Buchanan asks whether this means we are no longer at war.
Many of you know that one of the arguments against military contractors is that their higher pay drains the U.S. military of qualified personnel.  USA Today now reports that a similar problem occurs at the top, where generals are often hired back and paid two to three times as much as they were earning while on duty to be "mentors."  Many of the generals have concurrent jobs with defense contractors.
Time put together a story detailing how White House Counsel Gregory Craig found himself shoved out of the White House.  Also included is the story of how the Obama administration walked back some of their tough talk on transparency and openness in government.
Is United States v. Egan, one of the most-cited cases for expansive executive power in regards to classification, overused?  A study by Louis Fisher argues that the case may say so in dicta, but that the case itself concerns only a narrow statutory dispute.
The CIA and the DNI continue their turf battles.  The new fight is over authority to determine Predator strike targets.
The Senate Homeland Security and Governmental Affairs Committee has decided to investigate the Fort Hood attack.  However, it is running into trouble because the administration has declined to provide any witnesses to the committee until internal investigations are completed.
Ron Paul's attempt to "Audit the Fed" passed the House Finance Committee.  The bill would allow Congress to order the GAO to review the Fed's monetary policy decisions.  Ryan Grim gives his opinion along with a brief account of how the amendment managed to make it into the bill.
The White House's Recovery.gov website, designed to allow the public to track stimulus spending, records some $6.4 billion going to congressional districts that don't exist.  An amusing error by bureaucrats?  Not for the House Government Reform and Oversight Committee, which is promising hearings and investigation.
Are we done with bailouts?  Kevin Drum passes along Paul Krugman's new wisdom and agrees that another bailout is unlikely to be politically feasible, even if the economy suffers another shock.  But, Daniel Larison points out, it's difficult to gauge the depth of people's feelings about bailouts right now.
Finally, Happy Thanksgiving, everyone.
Image: A Guantanamo detainee in 2002.  Credit: AP.
Tags: Weekly Web Watch